Among many downloaders that are available for Mozilla Firefox on the internet, Video DownloadHelper is one of them. It is an extension for the Firefox which allows you to download audios and videos from various online sites. But, like all the downloaders this might also be causing issues and giving errors like video DownloadHelper not working. So, in that scenario given below are some solutions in case video Downloadhelper doesn't work.
All Solutions to Fix Video DownloadHelper Firefox Not Working
Is your Video DownloadHelper not working, causing errors or video DownloadHelper not downloading any of the videos? You don't worry many users experience the same issue. There might be many reasons to it. Let's see the possible causes and all the solutions to fix this issue:
1. Update Firefox Browser or Overwrite the Add-on
Like various other issues, this might also be caused by an outdated web browser. Sometimes, if you have not updated your browser Video Download Helper stops working. The other issue which can also cause the issue as Firefox updates the add-ons automatically and because of the update the newer version doesn't cooperate with your browser. This can also result in video downloadhelper not working. In the latter reason you will need to rewrite the newer version of the add-on to the older one. Also, you will also need to disable auto updates for the add-ons in Firefox which can be done simply by these steps:
Open the Firefox browser and go to the Firefox menu.
Next, click on add-ons and then, click on settings icon.
To disable the auto updates, click on the Update add on automatically to uncheck it.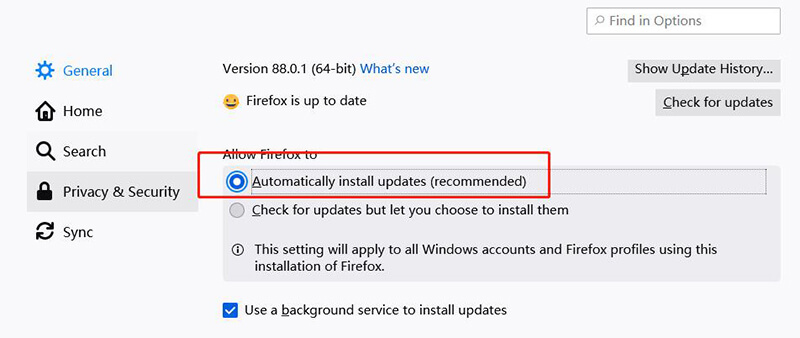 2. Clear Cache, Cookies, and History of your Web Browser
The solution that most commonly performs well if the video Downloadhelper doesn't work, is to simply clear the unwanted cache, cookies and browsing history from Firefox. This unwanted cache and data when piled up causes to slow down the Downloadhelper and eventually stops it. To clear all the unwanted files and data follow these steps:
Open Firefox and go to the Firefox menu panel.
There, click on Settings and choose Options.
Now, choose Privacy & Security and here you will select the items, cache and data you want to delete from your history.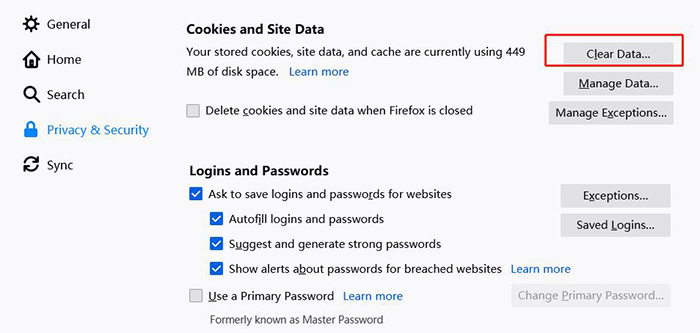 3. Restart Firefox and Your PC
Whenever something goes wrong and is not working in your web browser or even your PC. The most convenient option is to simply restart your browser and your PC. This will most efficiently remove any lag in your system. If it's not any technical error your Video Downloadhelper issue will be resolved. Otherwise, you can try the other solutions.
4. Find a Better Alternative to Video DownloadHelper
If any of the above-mentioned solutions didn't work out for you even after you have tried refreshing your browser or restarting your PC. Then the issue might be the formats or the privacy of the video that is making it impossible to download videos with Video DownloadHelper. In that case, you should look for a better alternative to VideoDownloadHelper which is iTubeGo YouTube Downloader. It works best for downloading videos and audios regardless of the format of the video. We will discuss in detail about iTubeGo YouTube Downloader later in this article.
Video DownloadHelper Not Working Chrome Error Fixed
As you might know now that Video DownloadHelper is only best compatible with Firefox. Even though, it is an add-on for Firefox browser but an extension of Video DownloadHelper for Chrome browser was also released which was last updated in 2016. So, now you can think of the limitations it might carry because it is an outdated version compared to the Chrome browser. It is because of this you won't be able to download YouTube videos through Video DownloadHelper Chrome extension.
As the privacy policy clearly indicates that YouTube doesn't allow you to download copyrighted videos through extensions. So, in order to overcome this problem, you will have to find a software that can help you download all the videos efficiently and with ease without worrying of the sites, browser and other limitations.
Video DownloadHelper Alternative to Download Online Videos
As promised, we are back to telling you the best alternative to Video DownloadHelper which will end your quest regarding Online video downloads. iTubeGo YouTube Downloader is an all-in-one solution which will fetch videos and music from various online platforms,and this software works best with all the browsers equally and available for Windows as well as Mac OS.
To download iTubeGo YouTube Downloader, click on the download button given below:
Key Features
Supports 10,000+ online video and music websites including YouTube, Vevo, Vimeo and more
10x faster downloading speed with multi thread Technology
Download an entire playlist in a single click
Supports download in MP3, MP4, M4A, WAC, FLAC and more
Cut Youtube videos to your desired length
Built in browser which is safe and protects your privacy
Supports up to 4K and 8K video download
How to Download Youtube Videos via iTubeGo
Step 1 Once you have installed the software, go to YouTube find the video you want to download. Next, you'll need to copy the URL of the video from the address bar of your browser.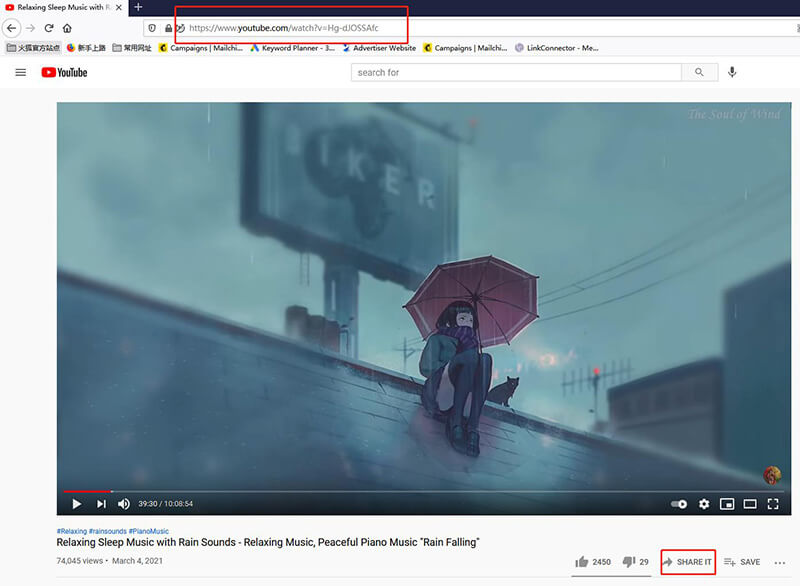 Step 2 Launch the iTubeGo software and in the Preferences Section choose the output format for the video to MP4.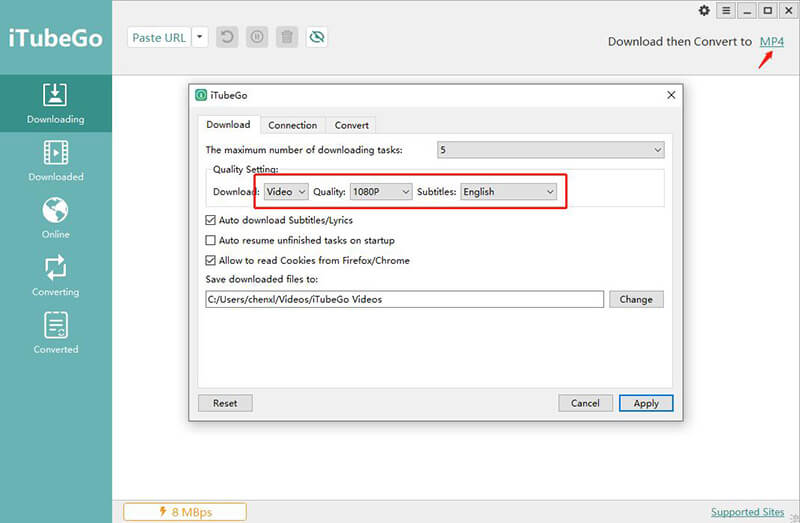 Step 3 Click on the Paste URL button on the top of interface. Your video will start downloading automatically.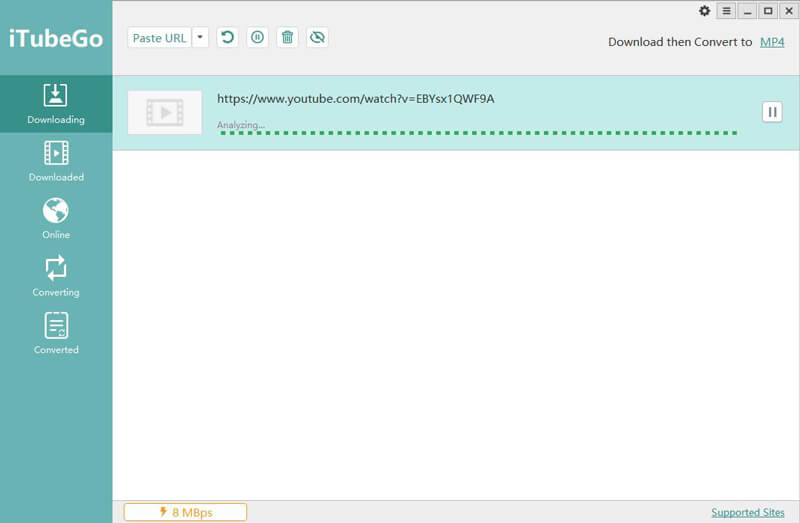 Step 4 You can find the downloaded video in the downloaded section of the software.
To Conclude
In this article, we have covered all the solutions that were possible to solve the video DownloadHelper not working issue. You can try fixing the issue but, in order to completely eradicate this issue you can simply download your videos through a better downloader which is iTubeGo and watch the videos on the go.