As you probably know, many websites out there claim to offer the best alternatives toVideograbby Downloader. However, as you will find out, most of them either provide no value for your money at all or charge a ridiculous amount for the similar services. Fortunately, we've discovered the top 10 best alternatives to Videograbby download software that can make your downloading experience hassle-free.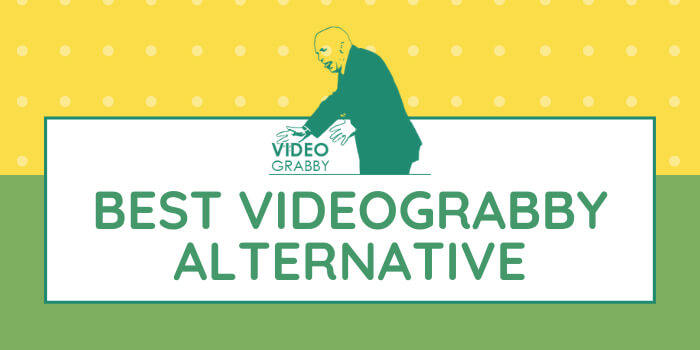 Best Videograbby Downloader Alternative – iTubeGo
iTubeGo Video Downloader is one of the best Videograbby alternatives in the market. It is a video/audio downloading software that can be used for any media type from over 10,000+ sites on the internet. It provides you with a 10x faster downloading speed, even when you are downloading high-quality videos. iTubeGo Video Converter allows you to convert online or downloaded video to 24 output formats without compromising quality.
Key Features
Allows its users convert media to any format for iPhone, iPad, and Android devices
It can also help you convert videos into any file, like MP4, MP3, AAC, WAV, OGG, and more.
Enables you to download unlimited number of files at a time without any restriction or downloading limit
It offers a password-protected feature that can protect your music and video.
Upgrade to the most recent version and get a 100% guarantee on security
iTubeGo offers separate versions for Mac and Windows; click on the link here to visit the downloading page.
How to Download YouTube Video on PC/MAC
Step 1 Open your video and copy its link from the address bar of the browser.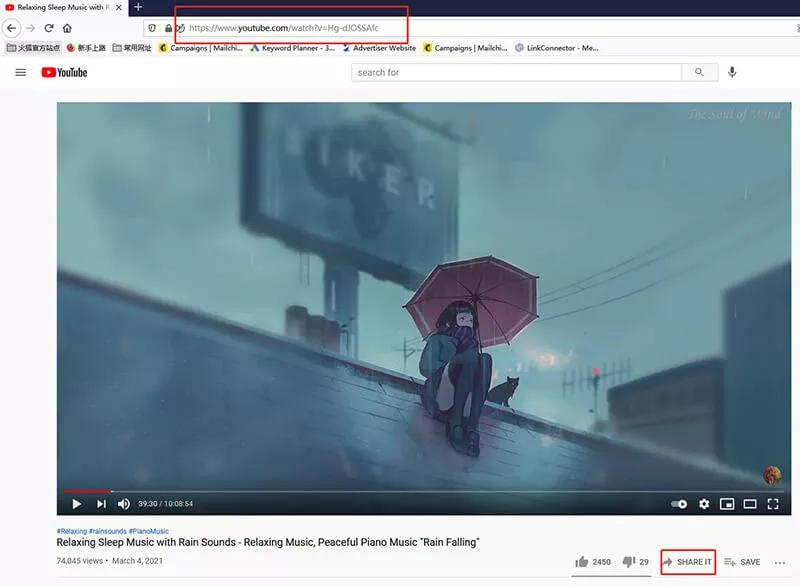 Step 2
Launch the already downloaded iTubeGo software. Now, choose the output format and quality for the download. You can set these in the preference menu, e.g., mp4 and 4K, or any other quality you want.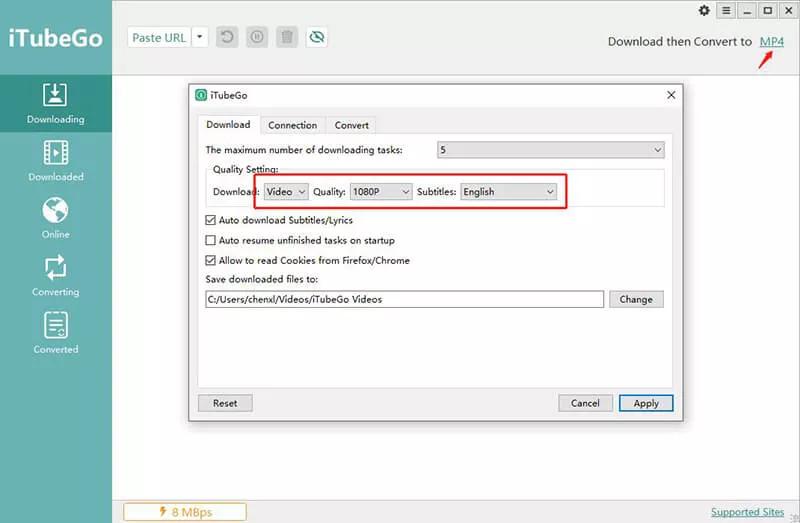 Step 3
After selecting your preferences, click the "Paste URL" button, your downloading will start automatically.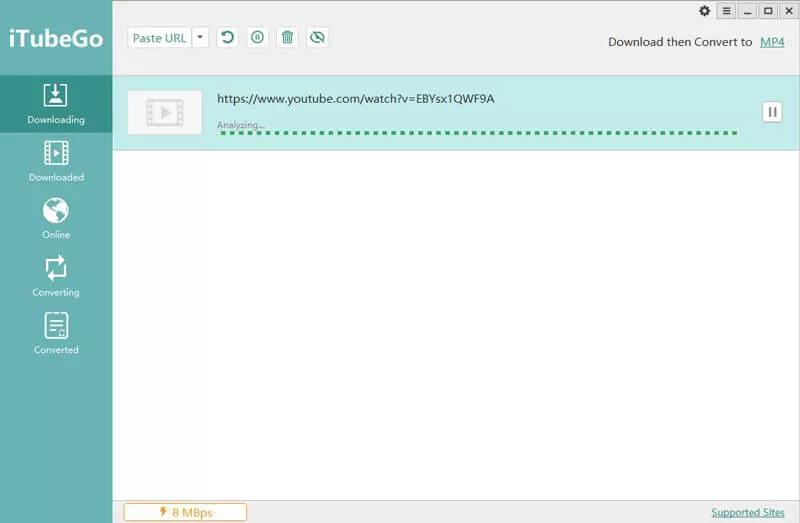 Step 4
Once the downloading process gets completed, you can get your videos from the downloaded folder.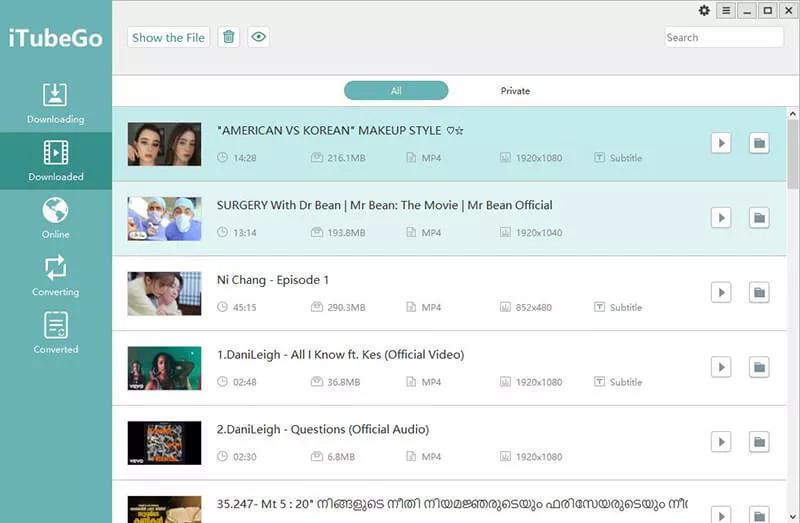 Other 9 Alternatives to Videograbby Downloader Online
1. Y2mate.tv
Y2mate YouTube converter is a great Videograbby YouTube downloader alternative that one can choose to convert both audio and video files. YouTube videos, movies, and music can be converted to MP3, MTV, playlists, or other formats. You can convert YouTube videos, movies, music, and playlists to any format you like; most of these formats are available for desktop software. Y2mate can be used on a wide range of devices. You can watch and play smoothly on Windows, Macs, iPhones, iPads, and Android Phones. Online Y2mate YouTube Converter fully supports SD, HD 720P. Enter the URL to download any video. You can also search for any video you wish to download. This gives Y2Mate an advantage over Videograbby.

2. YouTubNow
YouTubNow is another great alternative toVideograbby downloader. It is similar to Videograbby; however, it is restricted to YouTube videos, unlike Videograbby. The website works automatically. Paste the URL of your video, and it will convert automatically. It converts extremely fast, converting a 4-minute video in less than 2 seconds. Many video formats and quality are now available to download after conversion. The available formats to download depend upon the audio and video quality.
After clicking on download, a popup appears.This popup contains a direct download link. Click it to be redirected directly to the download page. Click the Download button to download. Where YouTubNow converts videos swiftly, however, downloading files is not straightforward and can be time-wasting, unlike iTubeGo. Sometimes the audio or video file is loaded on your browser and saved to your device instead of saving automatically. You can save media by right-clicking on the file and selecting "Save as."

3. YooDownload
YooDownload is a popular site like VideoGrabby. There are two ways to download videos online using the tool. It offers a Chrome browser extension that allows you to download videos online in addition to the copy-paste URL method. It will present a download button when it detects that a video is playing on a specific website. Its developers constantly update its features to offer the best possible services to users. The video file types that YooDownload supports include MP4, 3GP, and WebM. You can also choose from 144p to 180p and 360p to 720p quality for MP3 files.

4. Downvids
This is a Youtube video downloading tool that has been in existence since 2017. Downvids, like VideoGrabby, supports video downloads via YouTube, Facebook, and Vimeo. Downvids, however, is a great Videograbby alternative as it supports one-click video downloading. It also supports downloading YouTube playlists.
Downvids can handle more file types than VideoGrabby. After pasting the URL, click the download button to download the video. You can also set the video file type and the quality of the video before you hit the download button.
Downvids' unique channel downloader is what makes it stand out. You can now download all videos from a YouTube channel. You can download normal videos the same way as downloading regular videos. All you need is the video URL of the channel and the video format.

5. ClipConverter
ClipConverter is another reliable Videograbby alternative. The tool can convert video to various formats, such as MP4, 3GP, and MOV. It also saves the clip. It can extract audio from the file and convert it to MP3. ClipConverter claims it can download 4K video, even though it's an online tool. The problem is that it will convert the file before saving it. It cannot also grab YouTube videos that have copyright.

6. YouTube Multi Downloader
Youtube Multi Downloader Online is the best alternative to VideoGrabby if you are looking for a YouTube downloader that works with all YouTube videos. The tool, similar to SaveFrom.net, offers a quicker way to download videos by inserting the code "1s" into the URL. It can save large files, but it will slow down the speed of the download. It can also grab all videos in a YouTube playlist. Youtube Multi Downloader Online has a problem. It only supports the ten video streaming sites.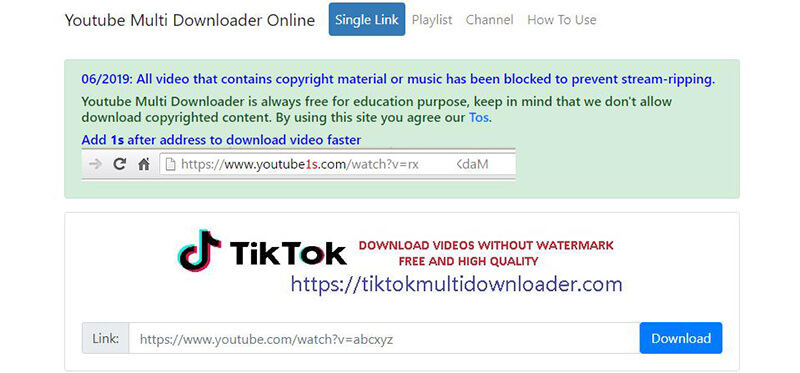 7. Keepvid
This is a popular VideoGrabby replacement used to download videos from YouTube, Facebook, and Vimeo. VideoGrabby supports video downloads from other platforms, but Keepvid supports even more platforms – over 100 are supported. Keepvid allows you to download entire YouTube playlists.
KeepVid's homepage features a video link box. Simply enter your video URL and click Go to convert it. You will find a quick download button but scroll down to choose the format or video quality you wish to download. It supports various video qualities, and the featured ones will depend on the uploaded video quality. YouTube videos can be converted to audio by using the MP3 file. It contains all video metadata and covers art.

8. VideoGrabber
VideoGrabber, just like VideoGrabby, share very similar names. However, VideoGrabber is more than just an ordinary video converter and downloader. After downloading videos from YouTube or other supported sites, you will be able to convert them into any supported file format using the Convert Video functionality. The video converter also works on tablets and mobile phones. You will need to choose a video you have already saved and downloaded.

9. Y2Mate
Another YouTube-focused audio and video converter is available here. Y2Mate's Android app is the most popular. It is free and available for download. Y2Mate is not only compatible with YouTube but also supports Dailymotion, Vimeo, and Youku. Enter the URL to download any video. You can also search for any video you wish to download. This gives Y2Mate an advantage over Videograbby.
The Bottom Line
This was our list for the top 10 alternatives to Videograbby downloader. Hopefully, you can find your best alternative to Videograbby downloader from the tools mentioned above. In terms of safety and level of functionalities, iTubeGo outclass rest of the names with a big clear margin and provides state of the art user-interface which is far more easy to operate than the Videograbby downloader.