Spotify is a great music streaming app, but it runs into few problems now and then. Even though you have a premium account, you can run into songs being grayed out or disappeared and not being played in your search results. In this article, we have produced solutions and reasons on Spotify songs greyed out problems.
The Reasons of Some Songs Greyed Out on Spotify
The platform has not officially provided any details regarding the songs greyed out on Spotify. The following are some of the reasons we gathered during our extensive research regarding the greyed-out issue.
Sometimes all it takes is one good internet connection to solve most of our problems. The reason behind gongs getting greyed can be because of our faulty internet connection. If you find songs that are greyed out, make sure to check if you haven't accidentally turned on the offline mode or lost your WIFI or cellular data network.
Country/Region Restrictions
Even though Spotify is a globally known app, the music on it might be restricted according to companies. So, if you've recently visited a country and found songs greyed out on Spotify, it must be due to regional restrictions imposed by the music companies. The limitations that are set have nothing to with Spotify.
Licensing Agreement Change
The terms and conditions are constantly changing, and it is also possible that some tracks get taken out because of slight licensing agreements. Music is always getting added and taken out on the platform. Hence that could be why the songs are greyed out in your playlist.
Another reason could be if you have imported local music files onto the platform. The format of those might not work or support Spotify, so the songs get greyed out. Another thing to consider is the songs could be DRM protected.
The Solutions to Fix Spotify Songs Greyed Out Issues
Following are some of the methods you can adopt for Spotify songs greyed out problem:
1. Fix Your Internet Connection
After you see songs greyed out on Spotify, you need to check your internet connection.  Look if you have a stable connection or not when you face this problem. Troubleshoot your internet for Spotify to work correctly. To do that, you need to follow the coming steps on your desktop client and mobile app.
Using Desktop Client
First of all, head over to "Network & Internet Settings" on your PC and you'll need to clean up the internet barriers.
In the case, internet connection is working absolutely fine on your computer, then it is recommended to check if Spotify has been already added to the whitelist of firewall. And if not, you'll be required to move it to the firewall exception list (whitelist).
Lastly, open the Spotify app on your computer and in Settings tab, turn on the "Show unavailable songs in playlist" option.

Using Mobile App
If you're using it on your cellphone, then go to "Settings" and "Cellular" options respectively. Next, scroll down and turn on the Spotify app.
2. Change Your Network Settings via VPN Service
As explained above, the greyed-out songs might be because of the regional restrictions imposed by some of the music cooperation that has nothing to do with Spotify. To counter this problem, you can simply opt to use a VPN service. You can connect to the servers of the United States and Europe for the most streaming content. If you're already using any VPN service, then you'll need to check if there's something wrong with the VPN connection on your device.
The first you'll need to check is the expiry date of your connection, if you're using any paid service. And in the case it's already expired, you have to renew  it to keep using the service.
If the VPN connection is working fine with all the other programs, you 'll need to check if it's connected to American or European servers. It is because Spotify music streaming service is fully supported in most of the American and European regions.
If the problem still persists, you need to try some other VPN service.
3. Clear Spotify Cache or Reinstall Spotify
Many caches on Spotify could cause stuttering or overload, which leads to spotify songs greyed out. To solve this problem, you can clear out the Spotify cache or delete the greyed-out songs and add them again. If the problem still continues, you can reinstall the app and check if the greyness has been cleared out.
4. Re-import Songs to Your Spotify Playlist
When importing the files to Spotify, ensures that music files are in the correct format. If they are in a suitable format and still remain greyed out, they are likely to be encrypted by DRM to protect the song. You need to de-encrypt the music using audio converters. You can use Musify to download songs for free and later import them to Spotify.
Fix Spotify Greyed Out Songs – Best Tool Recommended
The best audio converter you can use to de-encrypt protected songs is the Musify Spotify Music Converter. You can use this specially designed software to download songs without any limitations or restrictions. It also has built-in proxy settings that you can use to access restricted data in your region. The downloader is available for both Mac OS 10.10 or the latest versions and Windows 10/8/7. You can download the software by clicking on the links given below.
Key Features
Supports more than 1000 websites with 100% original quality downloads
Converts the Spotify albums, playlists, and songs into different formats, including MP3, M4A, WAV, and many others
Provides 10X faster-downloading speed without affecting computers' efficiency
Retains the ID3 tags that contain the information about songs and download song in their original quality and format
Cconvert and download online videos into different audio output formats
Allows to download lyrics in various languages
How to Download and Convert Music Using Musify
Step 1 To download any song, go to Spotify and search for the respective song that you want to download. When you've managed to open the particular song page, click on the Share button and select the Copy URL option.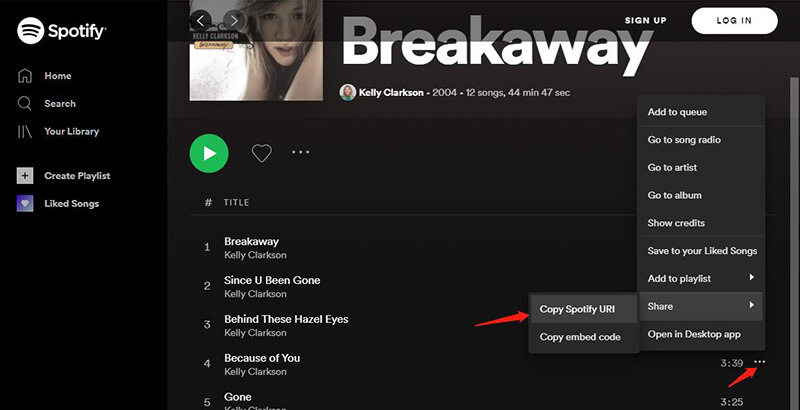 Step 2 Launch Musify downloader on your computer and head over to the Download tab in the Preferences section. Here, select the output format as Mp3 and 320kbps in the quality field.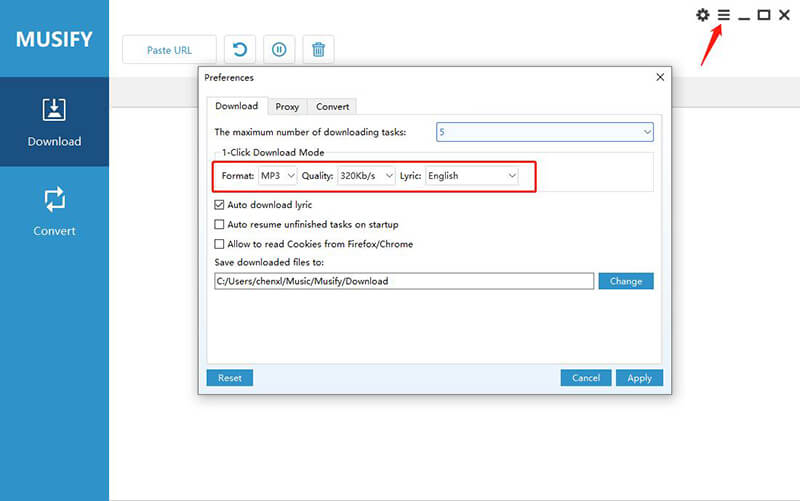 Step 3 Click on the Paste URL button after selecting your required download parameters. The downloading will start automatically as per your required format and quality.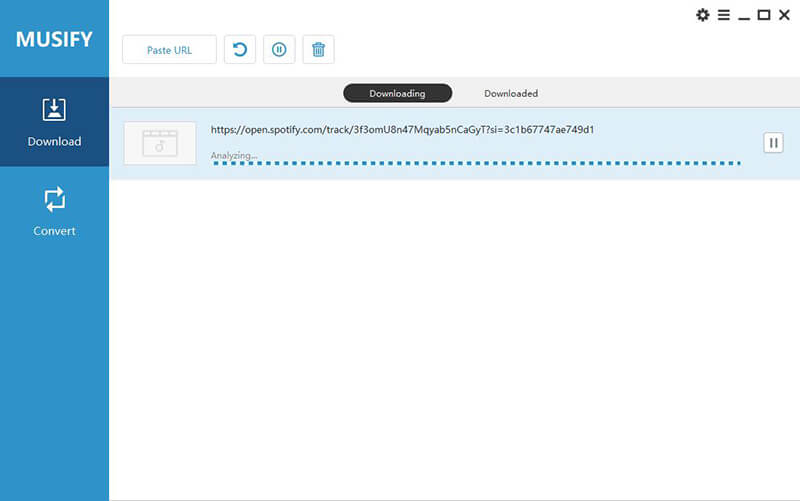 Step 4 After downloading, you can access the Spotify file in the Downloaded section of the software.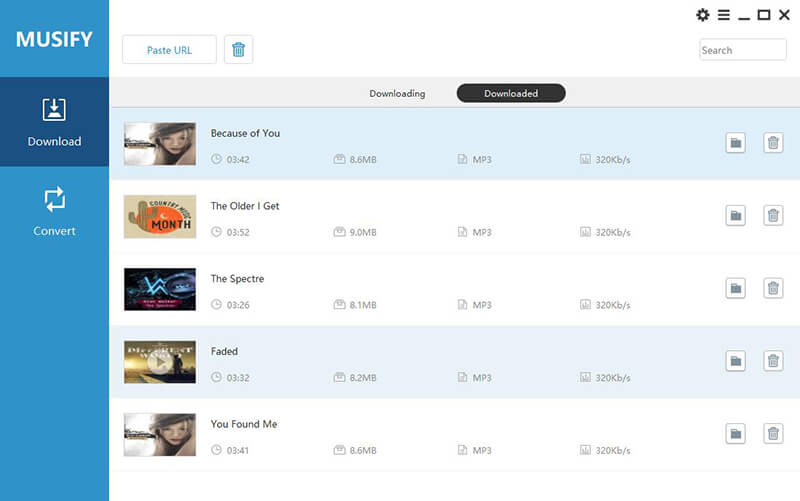 In Conclusion
The article has summed up some of the reasons behind Spotify songs greyed out issue and provided the possible solution to all the problems. Out of all the solutions mentioned above, we strongly recommend downloading your songs using the Musify downloader. In this way, you won't have to use VPN and other servers or troubleshoot your internet connection repeatedly.