As of today, Spotify has over 70 million songs and nearly 3 million podcasts which can be accessed for free. Although if you are a premium member, you can download these podcasts and songs for offline playback. But did you also encounter the issue of Spotify songs gone or are inaccessible when you come back to play it? In this article, we will guide you through the causes to why Spotify saved songs disappeared and possible fixes to it.
Why Spotify Songs Disappeared?
In this part, we will throw some light upon the reasons to why Spotify downloaded songs disappeared in the first place. So, you can figure out the related solutions.
1. All of Spotify Music is Gone?
Your Spotify songs can be disappeared if you have multiple accounts and you didn't log in to the account to which you have downloaded the songs or may be someone else has logged in their account to your device. To avoid this problem please make sure, you logged in with the correct account.
2. Can't Find the Saved Songs/Playlist?
If you find the Spotify saved songs or liked songs missing, these could possibly be the reasons:
#1. Playlists Removed by Artists
If you are sure, you have downloaded the songs and have a customized playlist which has now greyed out, it may because of that particular song or the playlists have been removed by the authorities.
#2. Exceeded Limit of 10,000 Songs
Spotify allows the premium members to download 10,000 songs over 3 devices and if you have exceeded that limit and want to download new songs. You will be notified by Spotify and would have to delete the previous songs to add new songs.
#3. Network Issues
You would need a decent internet connection to save the songs to your downloads. If you have a poor connection your songs won't even be saved. To download the songs, connect to active internet to save the songs.
#4. Songs Not Added to Music Library
It could be possible that the song you are searching for, have not even be added to Your Library. You will only be able to find the song if you have added that track to the Library or a playlist.
3. Saved Songs/ Playlists Greyed Out
Sometimes, you have saved a certain song to your playlist or added to your library but is now greyed out and won't play. This may be due to some changes in the copyright and licensing polices between the artists or the producers. This may resolve on its own but nothing is too sure.
4. Spotify Downloaded Songs Disappeared
If all of a sudden your downloaded Spotify songs got disappeared, then there could be a number of reasons leading to this:
Firstly, you might have logged in your account in more than 3 devices actively using the account.
You have not logged in to your account for almost a month. Therefore, Make sure to log in at least once a month.
If your Spotify saved songs disappeared, try upgrading your account.
The Best Method to Fix Spotify Songs Gone
We cannot guarantee that you would be able to keep the songs you love to your Library even if you have tried to fix the issue. To end this issue, you can simply download the songs you like through a software which is an all-in-one music downloader: Musify Spotify Music Converter. This tool will grab all the songs for you and you won't ever need to worry of them disappearing or greying out any time. With its faster downloading pace, it is an ideal tool to download multiple songs in a go with a lot options for output formats to choose.
Key Features:
Simple and clean user interface
Supports 10000+ music hosting platforms including Spotify, Bandcamp and others
10x faster downloading speed with the help of Turbo Fast mode
Downloads an entire playlist effortlessly in a single click
Convert videos in various formats including MP3, MP4, FLAC, WAC and many more
Support high-quality audio file, up to 320kbps
As compatible with both Windows and Mac OS, you can download Musify for your PC by clicking on the download button related to the OS of your PC:
How to Download Spotify Songs on PC/MAC
Step 1 After you have done with installing Musify to your PC, go to Spotify and search for the song you want to download. And then, copy the URL of the song by clicking on the Share button or simply from the address bar of the browser.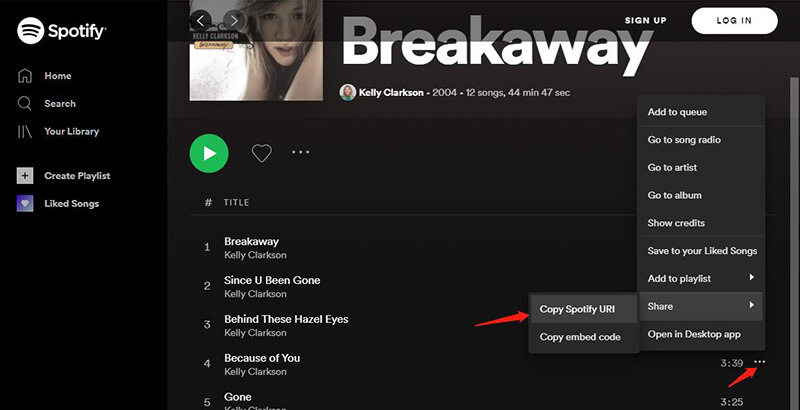 Step 2
Launch the Musify that you have already installed into your computer. In the Download tab of the Preferences section, select the output format to mp3 and audio quality to 320kbps.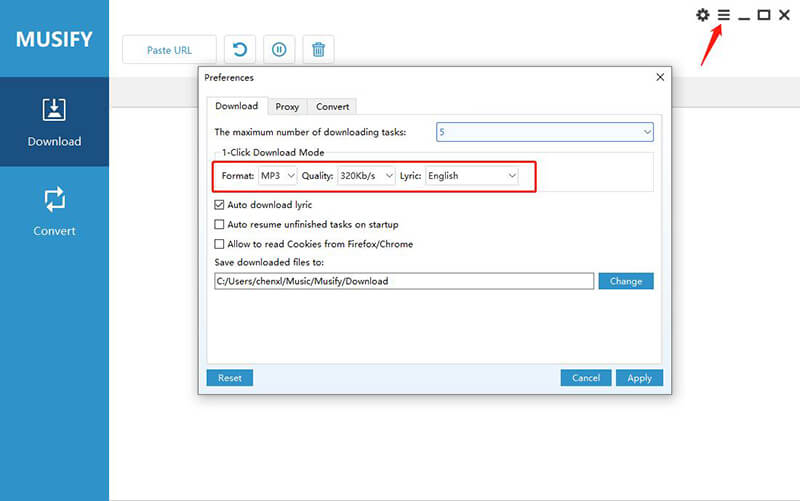 Step 3
As a next step click on the Paste URL button, your song will start downloading automatically.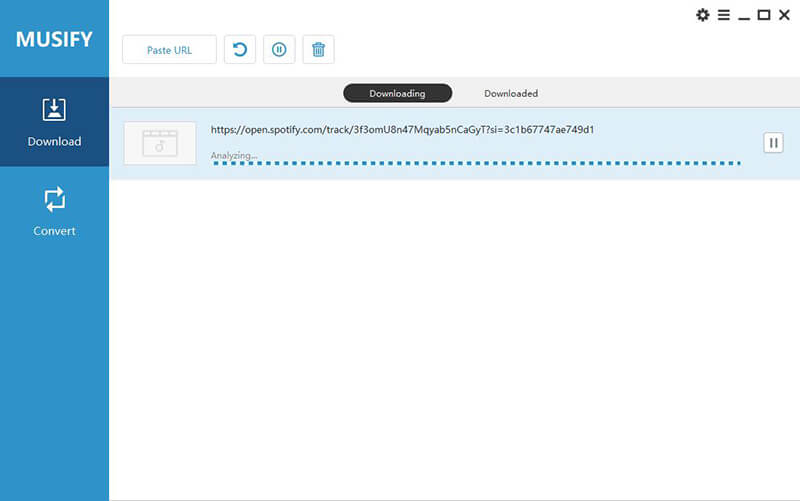 Step 4
Once the download completes, find Spotify song in downloaded section of the software.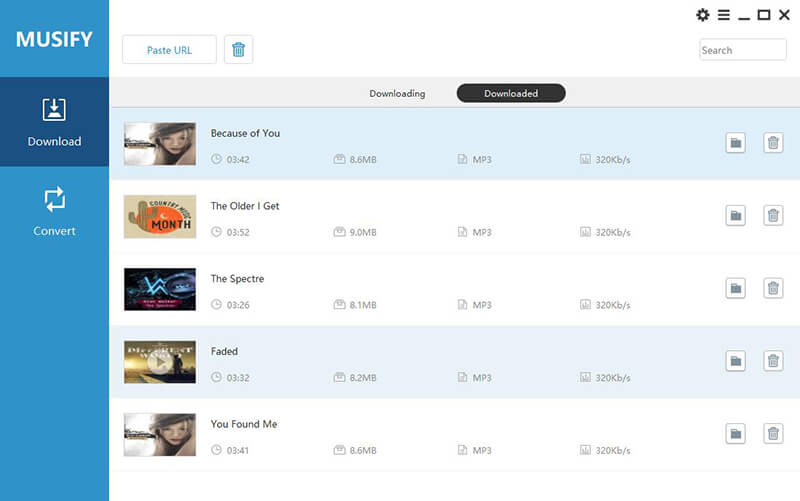 Final Thoughts
We hope you were able to understand the possible reasons behind Spotify songs gone from your Library. In order to completely prevent the discomfort, you can download the songs via Musify Spotify Converter which will grab all your favorite Spotify music and you will be able to play any song you like whenever you want to and won't ever have to worry about songs greying out.