As we all know, YouTube is the most popular platform for watching videos. Like with every platform, errors emerge on YouTube time to time. People have been recently reporting about the Green Screen issue while watching YouTube which has been creating a buzz on the internet. With green screen, audio keeps playing in the background. It often happens when you are watching YouTube on a browser. If you are wondering how to fix green screen on YouTube? Well, this article will cover all the basic methods you can try to fix the issue.
Tips on Resolving YouTube Black Screen Issue.
Method 1: Try a Different Web Browser
Firstly, the most common reason causing YouTube green screen issue might be browsing YouTube on Internet Explorer browser and it has commonly been reported by the users of Windows 7/8/10. To prevent this, you can try using a different web browser which may be Chrome, Firefox and others.
How to Fix YouTube Videos Not Playing on Chrome?
If you don't wish to change your web browser you can even change the settings of your Internet Explorer, which might fix your issue. Follow these simple steps:
Step 1: Launch Internet Explorer browser and go to Tools and then select Internet Options by clicking on it.
Step 2: Among the options that will open in the next window of the browser, click on the Advanced tab.
Step 3: In this tab, click on Use Software Rendering instead of GPU Rendering under the option of Accelerated Graphics and lastly click on Ok to save the changes.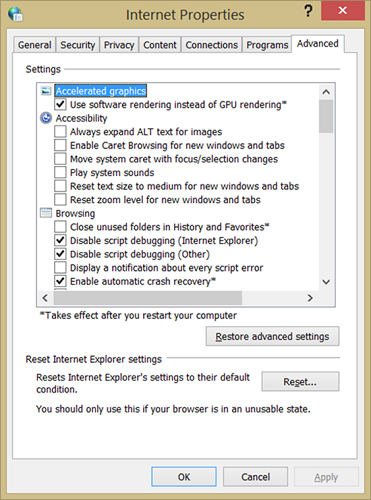 Method 2: Disable Hardware Acceleration
Hardware acceleration is a feature of Adobe Flash Player which provides better video quality and resolution. Some of the YouTube videos run via this feature and often it causes hitches like black or green screen issues. To overcome this feature, you can disable Hardware Acceleration. There are two ways you can get to turn it off. Follow the steps below to disable it:
1st Technique:
When the green screen appears while watching the YouTube video. Right click on it and then a dialog box will appear. Then among the options, click on Settings.
Once you click on settings a new box will appear with an option of Enable Hardware Acceleration under Adobe Flash Player Settings. You will click on the box to disable it.
Lastly, close the settings and Refresh YouTube and this will help to resolve the issue. If the option to disable the hardware acceleration doesn't appear then plug in itself is absent.
2nd Technique:
If you are using a Chrome, Opera or Firefox browser, you will click on More, and then, click on settings option.
When you will reach in the settings window scroll down to the end of it and click on the option that says Advanced.
This will lead you another list where you will see 'Use Hardware Acceleration when available' under the heading of system. If it's enabled, click on it to swipe to the left and it will be disabled.

Method 3: Update your Graphics Driver
If the other two methods didn't work out for you then you should know that YouTube green screen issue may also occur due to incorrect or an outdated Graphics Driver. To overcome, you can check if there is an update available cause if so, updating may fix YouTube green screen. It is a little different for both Windows and Mac users. Follow the method according to your PC:
For Windows:
If you're a Windows user, all you will need to do is go the official site of manufacturer of computer and see if any latest graphics browser is available and download it right away.
For Mac OS:
If you are a Mac user, then click on the Apple icon and in the menu and select Software Update. If there is an update available you can install it right away which includes the update of Graphics Driver.
Method 4: Download YouTube Videos to Computer
No worries, if any solution didn't work well in your favor. The most effective way to fix YouTube green screen problem once and for all is to download the video you would like to watch, for offline playback. For this, you should apt for an incredible downloader for your PC which is iTubeGo YouTube Downloader. To say the least, it will help you download videos not only from YouTube but various video hosting platforms. You are able to choose your preferred format and video quality and download location for the quick access.
If you want to download iTubeGo, click on the download button given below. Just keep in check the Operating system of your PC:
Key Features
Support 10,000+ video/auido streaming websites
Downloads YouTube videos and playlist in a single click
Provides 10 times faster downloading speed
Download high quality videos up to 4K and 8K
Download music in high audio quality of 320kbps
Built-in browser and video cutter for YouTube videos
Steps to Download YouTube Videos for Offline Playback
Step 1 After you have installed iTubeGo YouTube Downloader on your PC, go to YouTube and search for the video you want to download. Afterwards, copy the URL for the video page from the address bar of your browser.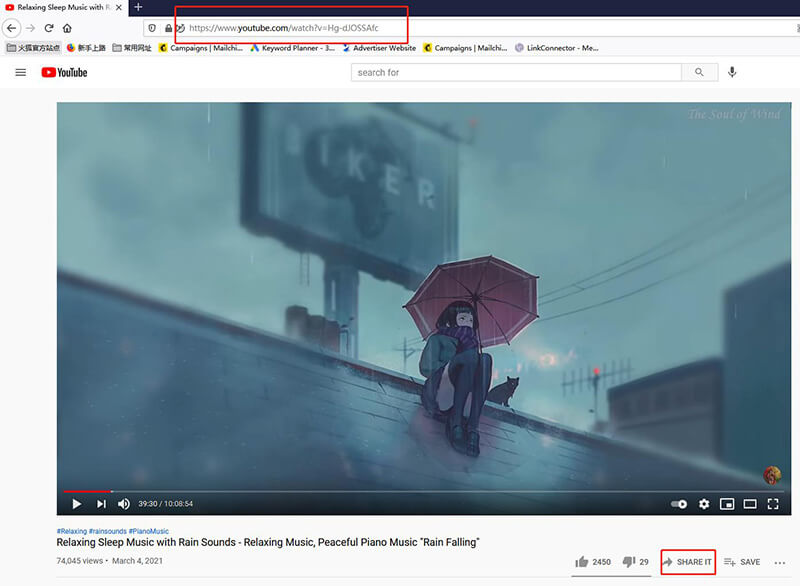 Step 2
Launch the iTubeGo YouTube Downloader, and without any further ado, go to the Preferences Section. Here, you will need to select the output format to MP4 and choose video quality according to your requirement, and then, click Apply.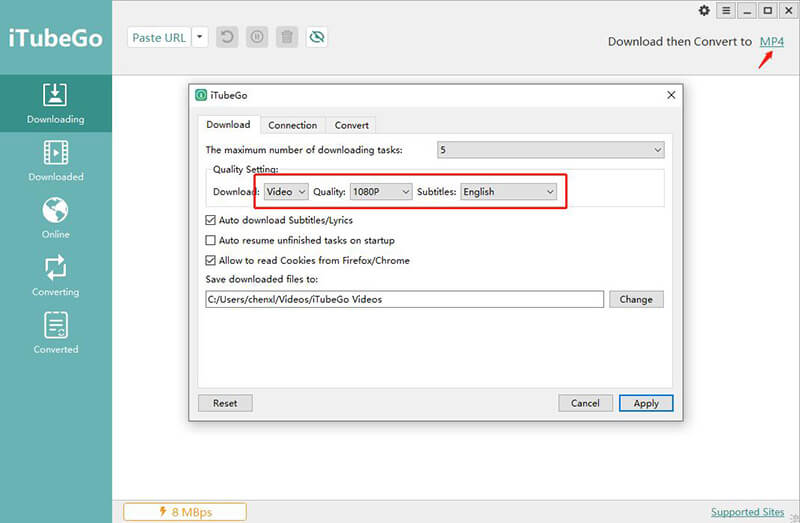 Step 3
Now, click on the Paste URL button and your video will start downloading automatically and instantly.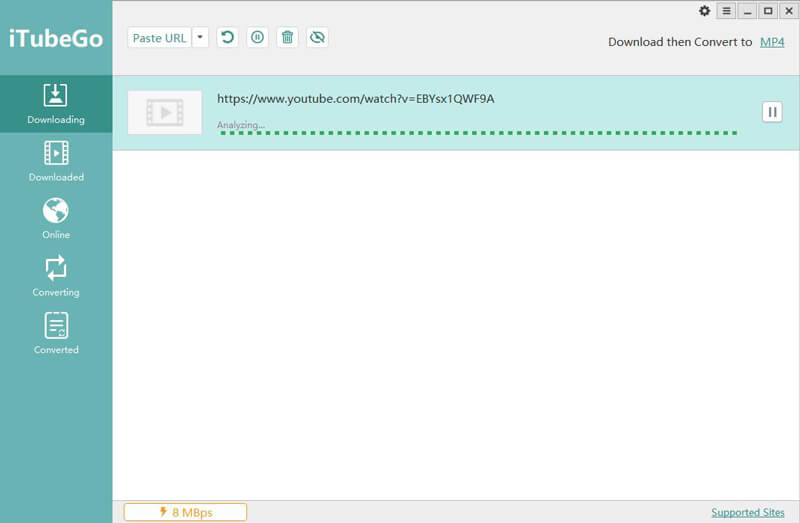 Step 4
Once the video has been downloaded, you can find the YouTube video in the Downloaded section of the software.
In Conclusion
Reasons for the Green screen issue while watching YouTube might vary from user to user but, coming to the end we hope we were helpful in delivering some solutions to fix it. You can try any solution that you might think works best for you. Although, we recommend downloading the videos for watching them offline with iTubeGo which makes it easier and doesn't kill your vibe when you want to enjoy your favorite videos.