After you have been on YouTube for quite some time now and you've already got some followers, then inevitably, you must have experienced YouTube keeps logging you out at some point. It's not entirely clear why YouTube doesn't just allow people to be able to watch their videos across multiple platforms without logging them out at every page. Once in a while you will face YouTube keeps logging me out problem. If you're worried about this problem, then you've landed to the right place. Besides, if you want to download YouTube videos and watch them offline, you can try iTubeGo YouTube Downloader.
Troubled by YouTube Keeps Logging Me Out?
YouTube keeps logging me out is not a rare case, or you're not the only individual it keeps on happening to you. Many people keep facing this issue. Following is a real case:
Every time I close my browser on my desktop, YouTube will log me out, regardless of whether or not I picked the option in chrome that keeps me signed in. I've seen older threads from a few months ago stating that I should give the platform a while to resolve itself, but I'd like to know if I'm the one currently experiencing this issue or if anyone has a solution to the problem.

— From Reddit
How to Fix YouTube Keeps Logging Me Out?
Method 1: Clear Caches and Cookies of Your Web Browser
YouTube keeps logging you out is a sign that something is wrong with your web browser settings. Clear view history, caches, and cookies from your web browser is the first thing to do.
These steps will work for Google Chrome users:
Next, click the three-dot menu to go to settings.
Scroll down for the security and privacy section and click Clear browsing data.
You can find the following information: Browse history, Cookies and other site data, Images, and files that have been cached
Click on Clear data button to remove them from web browser.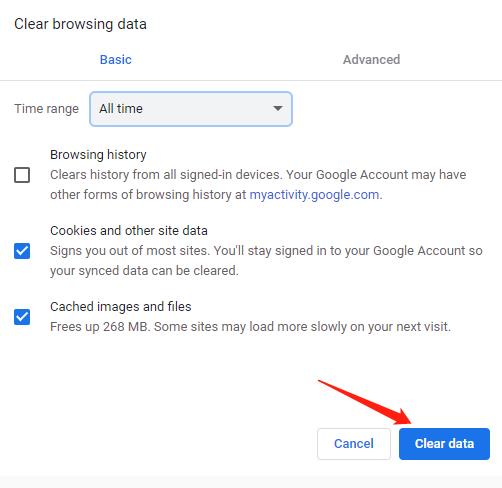 Method 2: Disable Extensions on the Particular Web Browser
If you have installed any extensions to your web browser, the YouTube keeps signing you out issue could be caused by these extensions. To disable them, give it a shot.
We're taking here Google Chrome as an example.
First of all, you'll need to open Google Chrome on your device.
Click on the three dots menu, then go to Extensions > More Tools.
For all extensions, turn off the button.

How to Stop Xbox Keeps Signing Me Out?
If you face the same issue but with Xbox, then following the steps mentioned below to get rid of the Xbox keeps signing me out issue.
1. Reboot Your Xbox One
Your Xbox One may have experienced temporary issues that caused it to keep signing me out. These issues will go away when you restart your Xbox One. This is a quick way to test if the problem can be resolved.
2. Reset the Password and Enable Two Factor Authentication (2FA)
If you're experiencing "Xbox keeps signing me out" problem, this could be a sign that your account has been compromised. You can reset your password and activate Two Factor Authentication (2FA) to rule out the possibility. You can then check if the problem still persists or not.
3. Check Your Network Connection
You need to ensure that your network connection works properly. You need to ensure that your Xbox One keeps logging you out due to a problem with the network connection. To resolve the issue with your network connection also, ensure that your NAT is open.
Another thing worth trying is to restart a router or modem. You can also configure the network settings of your Xbox to give it a shot. This is a standard solution used by some users.
4. Delete Your Xbox One Profile and Download it Again
If none of the above mentioned options work, you can delete your Xbox account and then re-download it.
Go to Settings > System > Storage>> Gamer Profiles.
Choose the Gamertag that you wish to delete.
Click on the Delete button. A pop-up menu will appear.
Click Only Delete Your Profile, but not save achievements and games,
Use the Xbox Guide Button on the controller (it's a large X button); located in the middle of the controller.
Choose Get your Profile.
You can always try the following method if the Xbox keeps signing you out problem persists.
5. Clear Your Xbox One Caches
Cache and cookies are temporary data that can be stored locally on your device. Try cleaning out the caches by following the steps mentioned below:
Close all applications on your Xbox One, and turn it off.
Turn off the power supply to the console's back when the Xbox One and power supply lights are switched off.
Give yourself at least 30 seconds. Turn the Xbox One on by plugging the power supply into it again.
In Conclusion
The leading cause behind the YouTube keeps logging me out the issue is faulty servers. Sometimes these issues when YouTube is doing a maintenance check on their respective servers. You can also disable your VPN to see if your YouTube account gets signed out. Moreover, change your password to ensure that nobody has to access your YouTube account. Lastly, you can also try disabling your extensions. All of this can help you in solving your YouTube signed me out issue.