YouTube is the most profoundly used platform globally. People now comfortably watch YouTube videos on their mobile phones. Lately, Android users have reported that their YouTube keeps pausing and they don't know what the reason could possibly be. Here we step in with this article that will prove to be helpful for you to point out the cause. Also, it will provide solutions to why does YouTube keep pausing while watching your favorite content on your phone.
How to Disable YouTube Video Paused Continue Watching?
Why does YouTube Keep Pausing Randomly
Recently, reports were flooded with Android users complaining about their YouTube pausing while they were watching videos on their cellphones. But no one could figure out what might be the reason behind it. We have enlisted some possible reasons why does YouTube keep pausing on Android phones.
The most common issue that could possibly be the cause of random pausing is unstable internet connection which is unable meet up with the preferred video quality.
Next, you might haven't updated your YouTube. Therefore, it's not responding and pausing the video or maybe there is an insufficient storage in your phone causing the app to crash and randomly pause.
Lastly, there could be other third-party apps in your system that can cause change in your phone settings and that might be messing with YouTube and it keeps pausing.
How to Fix YouTube Keeps Pausing
To know how you can stop random pausing of YouTube video, we have gathered some possible solutions that might help you:
1. Update YouTube APP
Updating YouTube frequently is essential to fix minor issues and bugs. If you have not updated your YouTube or have turned off auto updates you should check your Google Play Store to see if there is an update available. This might be the reason and is presented by random pausing. We are hopeful, if you will update YouTube your problem will be resolved.
2. Network Interference
Sometimes, the major issue is poor internet connection which results in the pause of YouTube videos. YouTube works in a way that whenever there is a disruption in the internet connection it usually stops because the video has not been further downloaded. You need to check the speed of your internet connection and if its lower than 2mbps. You can switch to other data package or can even change your network.
3. Poor Network Connection
When YouTube video keeps on pausing, it's probably is the sign of poor network connection. Poor network connection causes frequent buffering of a YouTube video so, it might be able to load at a point. But due to the connectivity issue this might be irritating.
4. Clear YouTube Cache
Cache is just temporary data collected over a period of time to run your websites smoothly. Build up of cache can cause frequent problems including the pausing of YouTube videos. You need to clear the cache of app to run your videos smoothly. You can clear the cache data by following these simple steps.
Open the settings of your phone and go to App and notifications.
Next, you will select the YouTube app from the list of apps.
Tap on the option for storage and then on Clear Cache.
5. Check your Headphone Jack
Android phone has the feature that if you remove your headphone, your video will be paused. This feature is helpful in many ways however, in this case might be the cause of the problem. You need to make sure that you aren't using faulty headphone because if they are broken the system recognizes it as constant removal of headphone which pauses the video. On the other hand, your headphone jack might have a problem and you should get it checked by professional.
6. Third-Party Applications
We already have told you that third party applications can interfere with the service policy of YouTube. This might result in the safety system considering YouTube as threat and try to stop it which may cause random pausing of videos. To overcome this, try closing the apps running in the background, one at a time to check if closing certain application resolves the issue.
7. Check If YouTube is at Fault
You should keep in mind that in the digital medium, certain glitches might get into the way and might ruin your experience while watching a video. You can visit YouTube Help Center and can check out various websites and articles to solve this problem. If the problem still persists, check out the best solution below.
Best Solution to Fix YouTube Video Keeps Pausing on Android
The best solution to your YouTube keeps pausing issue is to download Youtube video you would like to watch for offline playback. You can download YouTube video on Android device through iTubeGo App. It is efficient in downloading videos from 1000+ websites. Not only this, but also provides various options for formats and quality. Morever, it has its own built-in browser for faster browsing and downloads.
Here are the steps you can follow to get rid of YouTube keeps pausing on your Android phone:
If you have installed the application on your Android phone, by giving the all-necessary permissions, the next step would be to launch the app. On the main interface, you will see YouTube icon. Tap on it and find the video you want to download.
When you find the YouTube video, play it. You will see a download button in red present on bottom of the video to the right side of the screen, simply tap on it.
A box will appear where you will have to select the output format for your video to mp4. You can also change other settings like the quality of video according to your preference.
Lastly, tap on OK button and your video will start downloading. You can find the downloaded YouTube video in the Files section of the app.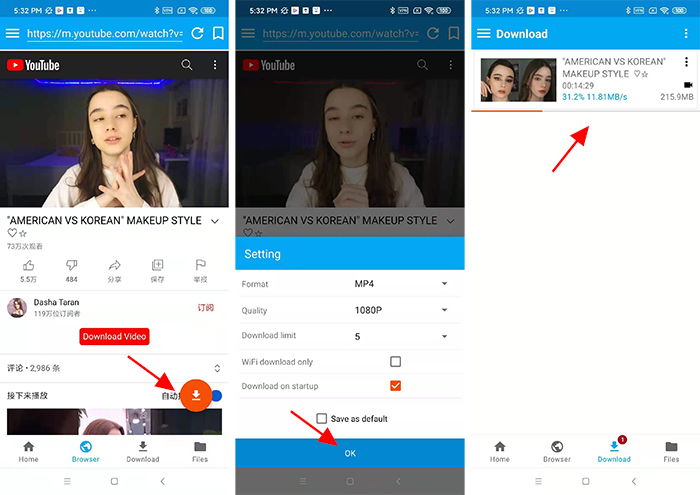 In Conclusion
There always exist a perfect solution to every problem. All you have to find is what's causing the issue and then fix it. Like in this case, YouTube keeps pausing on Android device have been reported multiple times. So, we came up with solutions that might help you. You can try the possible solutions we have enlisted. In case they don't work for you the best alternative is to download the YouTube video for offline playback on your phone through iTubeGo app and enjoy it any time without worrying.