Are you a high school student or a corporate employee considering uploading some YouTube content for educational/business related activity with your friends, colleagues, or even family members? If yes, then it would be wise to familiarize yourself with the difference between private and unlisted on YouTube. Whether you're looking for how to can make your YouTube videos private or unlisted or just need to know the difference between them, we will explain all the needed information in this post.
Difference between Private and Unlisted on YouTube
This is the default YouTube setting that makes your videos available to everyone. Your videos are open to anyone. Your videos will also appear under YouTube search results.
This option is beneficial for content creators looking to reach a large audience on YouTube.
A Private video, as the name implies, can only be viewed by a designated audience. This will limit the chances of your YouTube video appearing in search results. It won't also be visible on YouTube. You can invite-only 50 people to view your YouTube video. These people must have an account on YouTube to be able to view your private YouTube video.
This feature is handy one when you want to invite only a few people to view your video. You might like to express your opinion about a video. It can be shared with a small audience that can view your video. You can also get their views before making them available to a larger audience. Another example is the Private option. This allows you to hide old YouTube videos that are not relevant in current circumstances.
How to Disable the New YouTube Layout?
Unlisted YouTube videos would only be accessible to those who have the URL. They can view the video regardless of whether or not they have a YouTube account. Unlisted YouTube videos will not appear in search results or on your channel. This feature is excellent for steamers. They can also share the link with a restricted audience and stream their content. This option works well if you don't want to share any confidential information with the video.
How to Find Unlisted YouTube Videos?
Now, let's see the difference between YouTube private and unlisted.
| Features | Unlisted | Private | Public |
| --- | --- | --- | --- |
| Can share URL | √ | × | √ |
| Can be added to a channel section | √ | × | √ |
| Shows up in search, related videos and recommendations | × | × | √ |
| Posted on your channel | × | × | √ |
| Shows in subscriber feed | × | × | √ |
How to Make a YouTube Video Public, Unlisted, or Private?
When you have decided what type of video you want to make, for example, a private one, it unlisted or public down below is the simple method you can follow to make your video private, unlisted or public.
Step 1 You are going to start by Logging in to your YouTube account.
How to Fix YouTube Keeps Logging Me Out?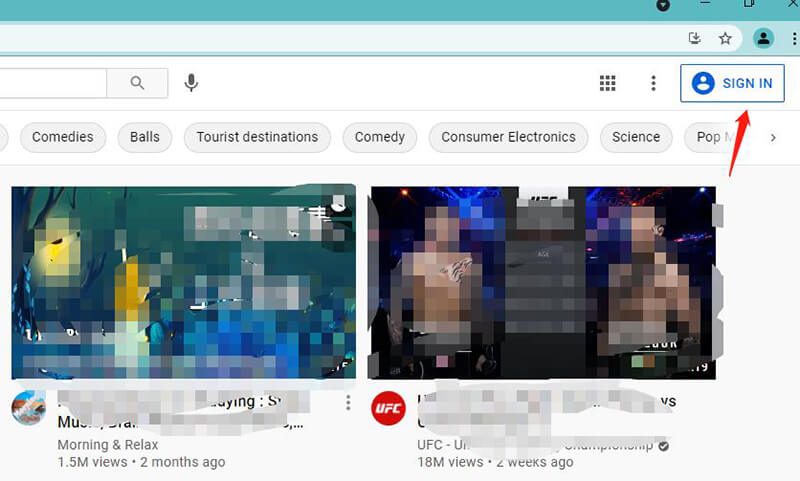 Step 2 Go to your channel icon and click it. You will see a list of options. Click on "YouTube Studio."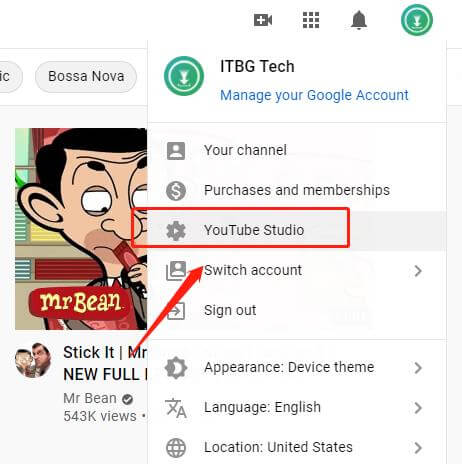 Step 3 After clicking on it, select Videos from the pop-up menu to see all of your uploaded video content.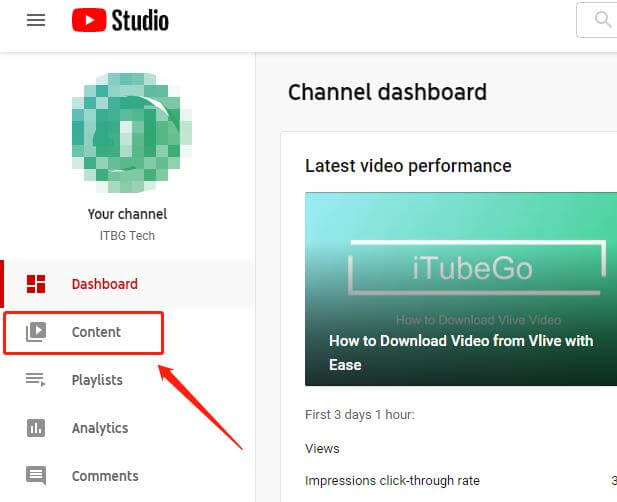 Step 4To change the privacy setting of your video, modify the visibility of your chosen video. Click on the current visibility, and you will get public, private, or unlisted options. Select the option and press save. You can directly share the links for public and unlisted videos.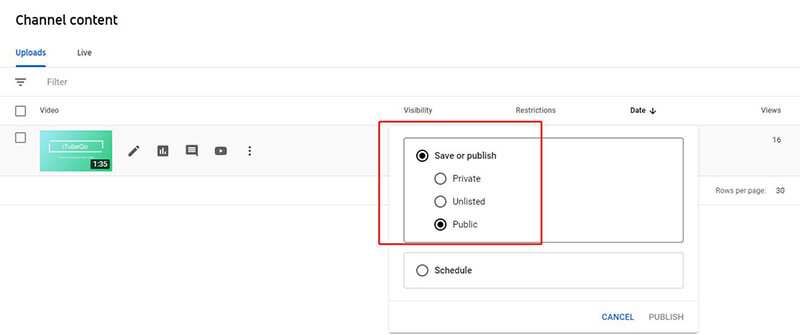 Step 5 However, for sharing private videos, click on the "Details" option present in front of your video.
Step 6 click on the "Options" icon present in the top right corner, and click "Share Privately." Now you can share the respective video with anyone you like. Simple, add their email ids, and they will get the link to your private video.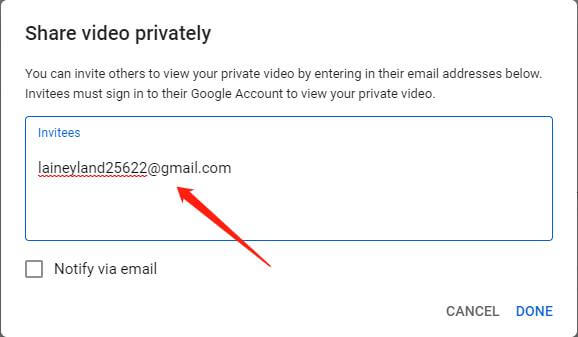 YouTube Private vs. Unlisted | Which One You Should Use?
When it comes to the battle between private vs. unlisted YouTube videos, a question often arises: which one to choose? The below-mentioned points will clear your confusion. If you are looking to share a video with a large group, but don't want it to show up in search results or visible on your channel, unlisting the video will work best. However, if you share something private with your close friends, then sending the video as a YouTube private video would be a smart move.
1. Advantage of Making a YouTube Video as "Private"
Send YouTube videos to the people you care about: You can share your private videos with family members who live far away. The URL cannot be shared with anyone who is not invited.
Make a personal repository: You can make a private repository of your most important videos. Gather all your personal collection like records, art, books, or anything that is important
Storage saving: You can save tons of videos using the Private video function. This would also save you tons of money compared to using a paid cloud platform such as Dropbox.
Access videos anytime, anywhere: This functionality allows you to access your private videos wherever you are.
Storing Confidential Company Information: In the case you have business strategies or any other information that you only want to share with employees, but you don't want your competitors to access them, then this is an excellent option.
2. Advantage of Making a Video as "Unlisted"
Good for large companies: This option allows you to share and view videos with employees and staff.
Portfolio sharing: The unlisted videos can be used to share your portfolio with the potential clients and prospect leads. The URL can be shared with anyone. Anyone who has access to the link (URL) can view your video and share it.
Recommendations for feedback: You can use unlisted videos to beta test or take suggestions from a small number of people, so you can make modifications and then make the video public.
This is an excellent option for YouTube creators: You can remove junk and irrelevant videos from your channel as a creator by making them unlisted. This will prevent search results and your audience from viewing them on your channel. Unlisted videos will not be shown in search results. The unlisted video cannot be scheduled.
Bonus Tip: How to Download YouTube Unlisted Video
So if you have a link to an unlisted YouTube video and you want to save it for offline playback, follow the steps below.
Download and Install iTubeGo Video Downloader from below link:
Copy the link of the unlisted YouTube video you want to download.
Open iTubeGo Video Downloader and click "Paste Link" within the application.
Select format and quality.
Click Download.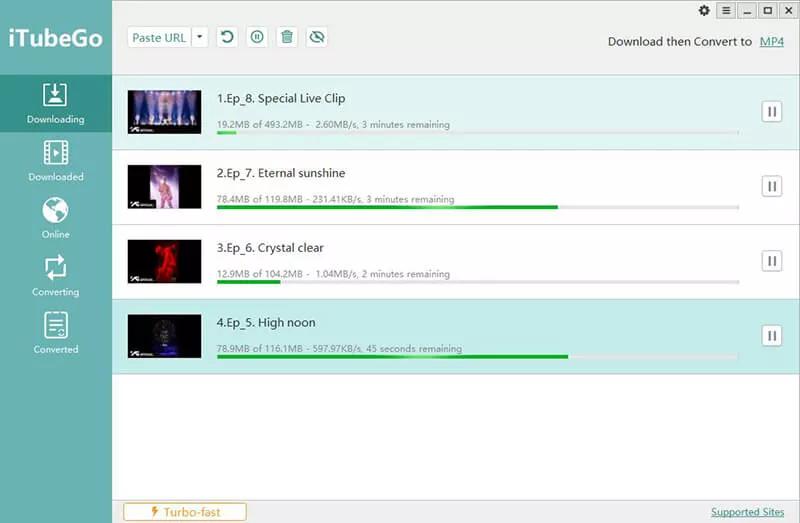 That's it! Now you can quickly save unlisted YouTube videos on your PC or Mac with no fuss!
In Conclusion
When comparing YouTube private vs. unlisted videos feature, it all depends on you what you want to do. However, we will suggest using YouTube private. This will hide any videos on YouTube in the public domain so no one will ever see them. It is a private network that means that you will only be able to view the videos you specifically choose to see and those kept confidential. If you are considering for a way to view all of your favorite videos, make sure that you go with YouTube private.